Who else wants to add 10-15 pounds of muscle—FAST—without wasting time, energy, or money?
UNCOVER ALL THE MASS BUILDING TOOLS YOU NEED IN ORDER TO ADD UP TO 15 POUNDS OF NEW MUSCLE IN JUST 90 DAYS
Get Jacked Without Getting Fat By Packing On Slabs of Dense Muscle While You Stay Lean
I have something very important to share with you today, but first…
If you're tired of spending countless hours in the gym with nothing to show for it…
If you're sick of sacrificing family and leisure time for time in the gym, only to see no results…
If you've avoided muscle-building programs because you don't want to get fat, or think putting on muscle is "too hard"…
If you want a program that will deliver maximum results with minimum gym time...
…then you need to discover the REAL secrets of hypertrophy, to help you build more muscle, burn more fat, and make you the envy of everyone in the gym.
What if I told you that there are no "tricks" to getting results from your training program? What if I said all the "secrets" weren't really secrets at all?
You've been putting time in at the gym, following your program, but you have nothing to show for it. Why?
It's not because you didn't put in the effort; but rather, you we're likely putting your effort in the wrong place.
Maybe you listened to an inexperienced trainer.
Or maybe you pulled some generic workout out of a magazine, or website, that wasn't tailored to you.
Maybe you just got bad advice.
There's a lot of bad information out there. Bad information leads to mistakes. Mistakes lead to ineffective programs. And ineffective programs lead to no results.
You listened to bad information. It's alright, it happens to the best of us.
But now's the time to fix it.
Now it's time to get the right information, and the right program, that's going to get you the results you want, and help you avoid some of the biggest muscle-building mistakes people make in the gym.
We'll get to that in a second, but first…
Hi, I'm Jorden Pagel, and for years I've been busy helping thousands of people uncover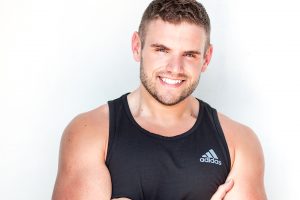 the tools they need to take control of their bodies, minds, and health.
Having spent a majority of my life as an overweight and under-strong dude, I suffered from a lot of lack-of-knowledge problems I see from a majority of my clients, including:
- Doing endless bouts of cardio to lose fat
- Spending 2 hours in the gym 5-6 days a week to build muscle
- Performing low-reps/high-weights to "tone"
- Believing that, to build a lot of muscle, you need gain fat too
None of these things worked for me. See...

As a high school football player, I was the biggest kid on the team. But I was also the slowest and weakest, so I never saw the field.
In college, I did every different workout I could find to get stronger, lose fat, and build more muscle. But all that happened was I got fatter.
Eventually, I just got sick of it. I was tired of looking at myself in the mirror. Tired of not getting the girl. Tired of having no confidence. And tired of always thinking, "Why can't I look like that?" when I would see strong, jacked dudes in the gym.
So I spent the next several years, and thousands upon thousands of hours reading, learning, and studying from the best, in order to discover what it would take to change my physique, and my life, for the better.
And in doing so, I lost weight, I got stronger, and I uncovered the true secret to building muscle…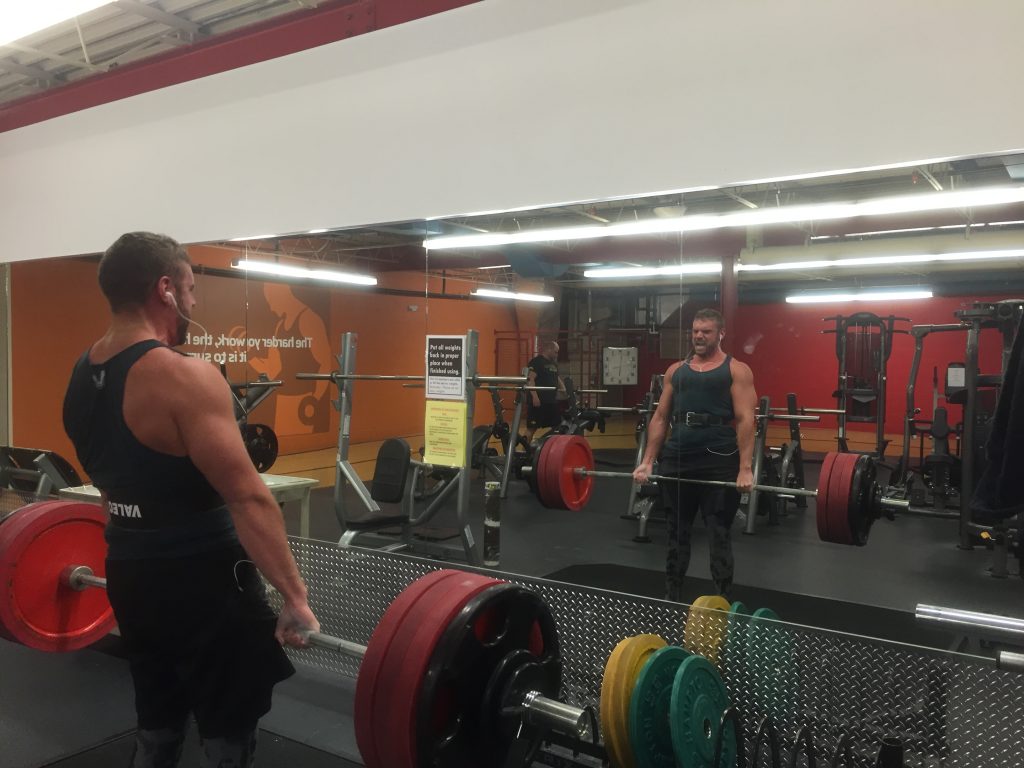 THE SECRET...THE SECRET THAT NOBODY TELLS YOU...IS THAT, IN ORDER TO GET THE RESULTS YOU WANT, YOU DON'T JUST NEED THE RIGHT TOOLS FOR THE JOB...YOU NEED THE RIGHT TOOLS FOR YOU.
The reason you haven't seen the results you want isn't because you don't have the tools...it's because you don't have the right tools for you. Or, more specifically, the job you are trying to accomplish.
For years I was trying to build muscle with the wrong tools. I simply thought going to the gym and doing endless sets of curls and benching would make me big and strong.
But I didn't know I was wrong at the time. Instead I wasted years upon years going through the same motions, doing the same thing over and over again. I knew it wasn't working, but I didn't know what else to do.
IT WASN'T UNTIL I REALIZED, MAYBE I NEEDED TO USE DIFFERENT TOOLS, THAT I WAS FINALLY ABLE TO FIGURE OUT HOW TO ACHIEVE MY GOALS
It wasn't until I figured out what all those programs were missing, that I finally discovered the best way to achieve the results I wanted.
There are a lot of good programs out there that aren't going to help you get the results you want. It's not because they don't work. It's because they don't provide you with the tools you need to see results.
"Jorden is a fantastic fitness coach with some of the best workouts out there and positive encouragement to keep you going. Great guy, full of knowledge, definitely knows his stuff. Definitely my favorite parts of the program were the workouts. They were killer and really helped elevate my fitness level. I highly recommend his programs."
"Jorden is an incredible coach with an incredible story. He not only helped me get into shape and feel better about my body, but educated me on the process itself which made a HUGE difference. Everything he teaches he does and has done himself. His knowledge and understanding of the body and nutrition is outstanding! I highly recommend Jorden Pagel fitness to anyone, beginners and advanced!"
SO, I'VE GOT SOME GOOD NEWS AND SOME BAD NEWS...
The bad news is, every muscle building program you've done before probably didn't work; at least not the way you wanted it to. It either didn't help you get the results you wanted, was too difficult for you to follow, or just plain sucked.
These programs may have had the best training plans in the world, but if they didn't give you the tools you needed, then they were never going to work for you.
But, the good news is, I have a program that will.
Introducing..
Mass Made Easy is the 12-week, results driven program you've been looking for. Not only will it help you add 10-15 pounds of muscle in just 90 days, but this easy to follow and customizable program will provide you with all the tools you need to effortlessly achieve these results.
Mass Made Easy was created out of my desire to help eliminate the stigma that building large amounts of muscle is difficult, and requires you to add tons of excess body fat as well.
After years of spinning my wheels in the gym, this was the program that finally allowed me to see the results I wanted - how I wanted - without having to spend countless hours at the gym.
WITH MASS MADE EASY YOU CAN..
Build More Muscle In Less Time
The Mass Made Easy workouts are designed to get you in and out of the gym fast, only four days per week. Through a combination of specialization and proper volume, you can add 10-15 pounds of muscle over 90 days, in as little as 4-5 hours per week.
A Program All Your Own
With Mass Made Easy, you get a program all your own. That means you get chose what you want the focus of your program to be. If you want bigger arms, you can train arms for a month...or hell, even two. Whatever body part you want to explode with growth, you can make it happen.
The Tools You Need, For the Results You Want
Mass Made Easy has everything done for you. You just need to execute the program. No worrying about whether you're doing the right exercises, or enough volume. Follow the workouts, and watch your transformation unfold.
…And much more.
Now, because I want to get Mass Made Easy in your hands, and get you seeing results as soon as humanly possible, I've come up with this incredible offer.
THE MASS MADE EASY FAST GAINS SPECIAL
I want everyone who is interested in gaining more muscle in less time to check out this program. That's why, I'm offering you the complete Mass Made Easy training program at over 50% off the normal price.
With the Mass Made Easy program, you get: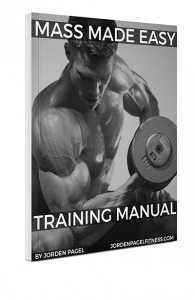 1). The Mass Made Easy Training Manual – A $197 Value 
With the Mass Made Easy Training Manual, not only do you get 6 months worth of workouts, but you also receive access to a complete exercise library to ensure you are executing the workouts safe and effectively.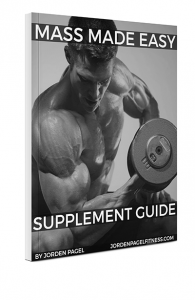 2). The Mass Made Easy Supplement Guide – A $29 Value
Choosing not to take supplements won't break your program; but certain ones can certainly help make it. With the Mass Made Easy Supplement Guide, you'll learn about which supplements are available to you, in order to help get the most out of the training program.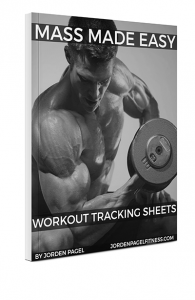 3). Mass Made Easy Workout Tracking Sheets – A $19 Value
Tracking your progress is extremely important in order to see results. There's so much going on in our lives that it's virtually impossible to remember how much weight you used for a given exercise from one workout to the next. With the Mass Made Easy Tracking Sheets, all you need to do is fill out your progress so you know what you need to do from one workout to the next.
Total Value of the Complete Mass Made Easy Training Program is $245. 
Now normally this package retails for $97. However, for a limited time, I'm offering YOU the whole package for only $47.
That's over 50% off.
Why am I offering such an incredible deal? It's simple; I want as many people as possible to discover the benefits of Mass Made Easy, and finally achieve their goals of building their dream body.

30-Day Money Back Guarantee
In fact, I am so confident in this program that I'm going to let you try it risk-free for the next 30 days. If, at point, you feel the program falls short of expectations, you can personally email me and ask for a prompt and courteous, no hassle, 100% refund.
However, I seriously doubt you'll be anything but satisfied. That's how much I believe in Mass Made Easy.
When you purchase Mass Made Easy, you'll be charged a one-time payment of $47 and receive immediate access to your program. No shipping. No waiting. You can start tomorrow.
Try Mass Made Easy, risk-free, for 30 days, and get:
- The tools you need to build mass effortlessly
- A program designed to help you reach your goals
- 6 months of workouts created to get you maximum results in minimum time
With Mass Made Easy, I've taken all the guesswork out of building muscle.
No more wondering, "Am I doing this right?" or "Will this work?"
I've eliminated the mistakes. I've provided you the tools. You just need to follow the plan and put them to work.
Let me help you. Click the button below to get your copy of Mass Made Easy, and let's get started today.
Upon purchase of this product, you will be taken to a download page, where you will be able to download your PDF version of Mass Made Easy.
To access your Mass Made Easy extras, click the "More information about this product" link under the product download button on your order confirmation page.
Should you encounter any issues, please contact jorden@jordenpagelfitness.com
ClickBank is the retailer of products on this site. CLICKBANK® is a registered trademark of Click Sales, Inc., a Delaware corporation located at 917 S. Lusk Street, Suite 200, Boise Idaho, 83706, USA and used by permission. ClickBank's role as retailer does not constitute an endorsement, approval or review of these products or any claim, statement or opinion used in promotion of these products.